"Majority of these coming content were total fabrications from the mind of a complete lunatic"


As an editor of the wiki, note that this page has content that are upcoming. Do your part by looking for confirmed information of the upcoming content.
Thank you!
Five Nights at Freddy's: Security Breach is an upcoming game that is currently under development by Steel Wool Studios in collaboration with Scott Cawthon. First revealed on August 8, 2019 during the franchise's 5th anniversary, it is scheduled to be released sometime around early 2021 for PC, PlayStation 4 and PlayStation 5, and then more than three months after on other consoles.
Description
"

Hey, kids! Do you want pizza?! Well, Fazbear Entertainment has spared no expense developing the world's most extreme family fun center – Freddy Fazbear's Mega Pizza Plex! At three stories tall, it's the flashiest, raddest, rockingist, safest* pizzeria the universe has ever seen. Of course, Freddy and the band are excited to meet you! Utilizing the latest in animatronic technology, you can actually party with the stars themselves. So, on your next birthday, let Freddy Fazbear's Mega Pizza Plex make you a SUPERSTAR!

* Disclaimer: Fazbear Entertainment cannot guarantee guest safety.

"
 

— Steel Wool Studios on PlayStation.Blog

[1]

.
Characters
Humans
Animatronics
Unknown Tentacle Animatronic
Returning Characters
Development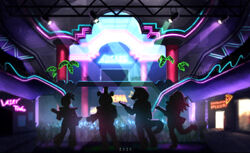 With the following reveal of Freddy In Space 2's production, the teaser from Scott's main website, http://scottgames.com, shows off another upcoming game. It shows that the game will be set inside a mall-like building with an 80's-style motif and with Freddy Fazbear's Pizza being a restaurant inside the mall. Also included is a laser tag arena, an arcade, and what looks to be a cinema. In the main square of the mall, an animatronic band consisting of new versions of Freddy Fazbear, Chica, a newly-introduced wolf animatronic and a newly-introduced alligator animatronic play for an excited crowd waving glowsticks.
When looking into source code from the website, a hidden conversation between two characters can be found. It reads as such:
Stay the course.
I will.
Focus on my voice.
I will.
Don't let anyone lead you astray.
I won't.
Have you selected one?
I have.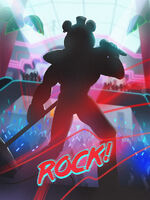 On September 29, 2019, scottgames.com was updated with a new teaser featuring the new version of what seems to be Freddy Fazbear. While the file is named 7_1.jpg, if the teaser is opened in Notepad, the text "G l a m r o c k _ F r e d _ P o s t e r" can be found, implying the new set of animatronics will be known as the Glamrock Animatronics, with glam rock being a term referring to rock musicians in the 1970s that "wore outrageous costumes, makeup, and hairstyles, particularly platform shoes and glitter."
On November 5, 2019, the teaser for "Glamrock Fred" was updated. From the image's left side close to "Glamrock Fred's" head, a silhouetted human/rabbit-like figure is silhouetted against the sky. Looking into Notepad, another string of characters can be found reading "S h a d o w o f V a n n y." Given the recent discovery of the Reluctant Follower in FNaF VR: Help Wanted, her relation to the rabbit mask, and the generally feminine figure of the shadow, some believe this is to be the Reluctant Follower, and that her name is Vanny.
On March 24, 2020, a new teaser is uploaded on scottgames.com. The teaser poster reveals a brand-new animatronic with a design based on an alligator or crocodile. The file name is referred as "Montgomery.jpg", and when converting the image to metadata, his name is revealed as Glamrock Monty.

On April 21, 2020, the characters' names are leaked from Funko's list of upcoming products, including in a respective order: Glamrock Chica, Glamrock Freddy, Montgomery Gator, Roxanne Wolf, and Vanny (as Vannie)[2]. It was assumed that Pizza Plex would be the title of the game according to this leak, but Scott later disconfirmed this[3]. The featured animatronics' overall design was also leaked after a new FNaF-based 2021 calendar was found on Amazon[4]. Later on, the official title of the game, Security Breach, is also leaked on a trademark government page. Scott noticed it and decided to reveal the official logo on scottgames.com on the same day.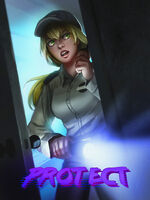 On June 11, 2020, a new teaser is uploaded on scottgames.com, which reveals a new female character playing a role of a security guard. Around the same time, Scott also commented on Reddit that the development are doing great even though there seems to be a lack of progress in terms of teasers and announcements. However, he said that the game will not come out until the end of the year. However, on June 27, 2020, Funko on their Twitter account, released a preview of the new action figures and Mystery Minis for the game, that revealed newer designs of Glamrock Freddy, Montgomery Gator and Roxanne Wolf; and so as the reveal of Glamrock Chica and Vanny's full designs. Later that day, Scott remarked that the community should not be bothered by this, ending the statement that "things will be happening very, very differently going forward".[5]
On August 6, 2020, a new poster was leaked from Trends International featuring Vanny, the unnamed female night guard and the Glamrock Animatronics. Following this, On August 7, 2020, a new teaser is uploaded on scottgames.com, featuring Vanny standing alone in front of multiple static monitors, holding a knife in her right hand. The previously leaked cover of the calendar is also updated a week later, revealing the official logo of the restaurant.
On September 16, 2020, a teaser trailer was revealed during the PlayStation 5 Showcase event. The video shows several shots of rooms inside the mall restaurant, as well as introducing a new animatronic with a grinning crescent moon for a face (later revealed to be Moondrop). At the end, the game was announced to be a Playstation console exclusive for the first three months after its release on PC, Playstation 4, and Playstation 5.
On November 17, 2020, Scott Cawthon made an announcement stating that, due to the size of the game being much bigger than expected coupled with the complications of having to work from home during the COVID-19 pandemic, the game was being delayed from a pre-Christmas release until early 2021.[6]
Steel Wool Studios announced on January 11, 2021 that the second trailer will be released tomorrow during the GeForce RTX: Game On Broadcast. The next day, the broadcast was live and the trailer was shown, featuring some new locations and several staff robots. However, due to fans being disappointed that no further reveal or gameplay was shown, Scott made a Reddit post to announce that the new video is more of a tech-demo than a real trailer, while confirming that the real second trailer is due in March.[7]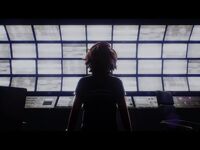 On February 25, 2021, the second trailer for the game is publicly shown during the PlayStation State of Play livestream. The video reveals that, besides revealing some core gameplay elements, the game allows the player to walk around freely, unlike any previous installments. The video reveals the cast of main characters, including Vanny, Vanessa, all four glamrock animatronics, the moon animatronic, as well as the physical reveal of the unnamed sun animatronic (later revealed to be a second form for Moondrop). At the end of the trailer shows a reaching arm of a new ominous animatronic.
On March 13, 2021, Dawko in his charity stream slowly reveals a total of nineteen new Security Breach screenshots. First, he uploads fourteen main screenshots to display numerous views of environments and some new locations. Dawko later went on to reveal five extra screenshots: Four screenshots display the glamrock animatronics' home stages, while the fifth and last screenshot reveal what seems to be an underground sewer location with a severely damaged Glamrock Chica and other destroyed objects.
On April 28th, 2021, it was announced that Security Breach would be delayed until late 2021. However, on the same day to keep the fans busy until then, Security Breach Fury's Rage was released.
After months of being silent, on September 1st, Steel Wool hinted at something around their website. Now when clicking on the Security Breach logo on their website, you are taken to Security Breach TV[8], where you are met with a gif that cannot be downloaded.
Just a week later on September 7th, Security Breach TV's first video teaser appeared, in the form of an old-fashion styled cartoon ,called Freddy and Friends: On Tour, featuring the main four characters from the original FNaF[9]. When added, an image of a group of skull-like heads was show with "AlphaZ 6 Groups" in the corner. Finally, the video ended with a set of 6 glitched numbers, with the second to last one ending on a 2 while the others continued to glitch between different numbers. Many believe this may be Steel Wool's way of revealing the release date. In the following weeks, the desk would be cluttered with more and more props, as well as some props being replaced or broken, and more Freddy and Friends episodes would be shown, showcasing more glitched teasers and clips of upcoming antagonists.
On October 27th, a giant trailer released showcasing many new gameplay cutscenes, features and even the new Music Man antagonist. The trailer gave the final release date of December 16th, 2021.
Trivia
When the calendar was leaked, the game was expected to be released before 15th July 2020, as the mentioned FNaF calendar will be released on that day.

This was later disconfirmed after Scott revealed that it will not be released until the end of the year.

Security Breach showed its first trailer on a PS5 Showcase event, which is a huge event that revealed several Triple A titles such as Resident Evil 8, God of War: Ragnarok, Final Fantasy XVI and so on.
At the end of its trailer, the game announced that for the first three months of it's release it would be exclusive to the PS4, PS5 and PC.
On Security Breach TV, hovering your mouse over certain areas reveal hidden messages, and the source for the website shows hidden assets not currently used on the website. [10]
References