Not sure who made the render(s) on the page? Check out the >> Wikia Credits! <<
"
When you wake up, just remember: Friends are forever.
"
 

— Freddy Fazbear after he kills you in FNaF AR.
Freddy Fazbear, otherwise simply known as Freddy, is the titular antagonist and mascot of the Five Nights at Freddy's series. He reappears in Five Nights at Freddy's VR: Help Wanted as well as Five Nights at Freddy's AR: Special Delivery.
Appearance
Freddy Fazbear is a brown animatronic bear with lighter brown accents on different parts of his body, such as his stomach, snout, inside of his ears, and the bottoms of his feet.
Freddy has blue irises with black pupils for the eyes, large black eyebrows and six freckles on his snout, three on each side in a triangular pattern. Freddy's light brown stomach can be opened, revealing a complicated, but repairable endoskeleton inside with lights and dials.
FNaF VR: Help Wanted
This model has a noticeable difference to the original Fazbear model from the original franchise. Unlike the original model, it has a raised groove on the insides of his ears, whereas the original model had concave ears. The model has a significantly upgraded endoskeleton model, in comparison to the original which is relatively simple. Another small detail the model is lacking is the raised pads on the insides of its hands, now being a smooth surface as well as the light parts of the model being more beige than the original.
FNaF AR: Special Delivery
The model in the game has a shiny plastic texture on it instead of original furry texture. It also has scratches and stains on its surface, making him look a lot older (In the announcement trailer, he also has blood stains all over his body). His eyes will glow blue when attacking the player.
He appears to be a two-dimensional, simpler version of Freddy, unlike the original Freddy In Space, which uses three-dimensional models. He now wears a silver spacesuit with dark gray accents, such as his boots. He also sports a green with red accented laser gun. His top hat is placed on top of his space helmet.
Personality
Based on the Freddy Fazbear's Theme song in Help Wanted, during the day, Freddy loves to have fun and is also shown to be laid-back, easygoing, and happy-go-lucky. His laughter throughout the Five Nights at Freddy's franchise suggests that he is somewhat mischievous.
Special Delivery gives Freddy a new voice that is very deep and a bit glitchy, as well as a new personality. This version of Freddy seems to be more malicious, and loves taunting his victims, but is shown to be somewhat merciful, as suggested by a small few of his lines. This is also somewhat indicated by his attitude towards the series.
History
Freddy Fazbear was built for the new Freddy Fazbear's Pizza in FNaF 1 after the older pizzeria with the same name from FNaF 2 is closed. He is the main mascot of the restaurant and is the singer and leader of the animatronic band.
As seen in FNaF 2 minigames, after five children had been killed by William Afton, their souls are put into the animatronics by Marionette, including Freddy. And since the killed children were reported missing, the pizzeria was closed down.
As shown in FNaF 3 minigames, William Afton then found out about the trapped souls inside the animatronics, and decided to come back to the place and destroy them one by one. Freddy along with other animatronics are dismantled, which causes the souls to break free. Terrified by the spirits, William ran into the secret safe room in the restaurant and wear the Spring Bonnie suit to hide from them. However, the springlocks in the suit suddenly malfunctioned (possibly due to the rain seeping into the building), causing the locks to become loose, resulting in his brutal death. Finally, the souls fade away.
In Special Delivery, a rebuild of Freddy Fazbear is made by the Fazbear Entertainment for the Fazbear Funtime Service, along with other animatronics and his reskins, Freddy Frostbear and Shamrock Freddy.
He also makes an appearance in The Freddy Fazbear Virtual Experience.
Behavior & Gameplay

FNaF VR: Help Wanted
Freddy appears in three sections of the game.
Five Nights at Freddy's 1
In the Five Nights at Freddy's section, Freddy appears at the second night, making his way to the player's office along with Bonnie, Chica, and Foxy, just like the original game. As the player runs out of power, Freddy will play his classic jingle, "Toreador March". Note that Freddy plays his jingle when he is in the Kitchen as well. After he finished his jingle, Freddy will jumpscare the player resulting in a game over.
Parts and Service
Freddy also appears in a repair section. In this section, the player must follow the computer voice's instruction on removing children's accessories on different parts of his body. If the instruction isn't followed properly, such as dropping Freddy's music box; He will jumpscare the player, ending the run.
Pizza Party
A shadow-y version of Freddy with glowing red eyes and teeth appears in Pizza Party, the only level in Hard Mode of Night Terrors. He will jumpscare the player if the player enters a certain room once or multiple times (depending on the room the player enters).
---
FNaF AR: Special Delivery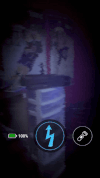 Freddy Fazbear is the first animatronic to attack the player, and one of the most common to encounter throughout the game. The player must locate him by detecting the static using the flashlight and listening to his movement and noises. His static is concentrated strongly in a small area.
When he charges at them, the player must shock him when he is visible. The player must also look away when he is in the "Haywire Mode", where he stands right in front of the player. This happens often when he is attacking the player, requiring quick reactions. It is also possible to obtain his plush suit and his CPU upon defeating him and, if the player is diligent in getting them asking a friend to send an animatronic, will have a boost in chances to drop these items.
---
Freddy In Space 2

Freddy Fazbear is the first playable character in the game. Freddy has a medium damage, medium range and short spread. In addition, Freddy's jump height is also average.

Skins
Five Nights at Freddy's VR: Help Wanted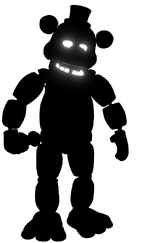 In
Five Nights at Freddy's VR: Help Wanted's
blacklight modes, Freddy is replaced by his blacklight counterpart,
Dark Freddy
. He is a shadowy, silhouetted version of Freddy with white eyes and teeth.
Appearance
Dark Freddy's model is identical to his original counterpart, only colored in neon black and with a different textures to reflect the blacklight mode. Similar to Shadow Freddy, he has large glowing bright eyes, and his teeth are glowing white.
Behavior
In Blacklight mode, Dark Freddy's Blacklight level in Parts and Service is very similar to the original level. The area is changed to be surrounded by multiple static-filled screens. The Freddles also appear clinging to Freddy before disappearing after a few seconds. There are also multiple toys floating around the room. The biggest concern is the color is gone and the view is in grayscale. This makes the atmosphere unsettling, along with making things extremely hard to see. Minor changes include the watch glitching into a Freddle when removed from Freddy.
---
In
Night Terror's
Pizza Party level, Freddy is replaced by Party Freddy. He is a shadowy, silhouetted version of Freddy with red eyes and teeth.
Appearance
Party Freddy's model is identical to Dark Freddy, only colored in neon black and with a different textures to reflect the blacklight mode. Similar to Dark Freddy, has red glowing eyes and teeth.
Behavior
Party Freddy attacks when the player enters certain rooms too many times.

---
Five Nights at Freddy's AR: Special Delivery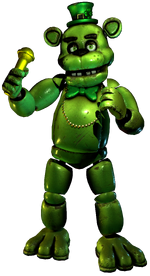 Shamrock Freddy
or alternatively known as
Shamrock Skin
in-game, is a St. Patrick's themed skin of Freddy Fazbear released at March 12, 2020. He is also the first skin of Freddy Fazbear and the first skin to arrive or use the newly introduced skin system of
Five Nights at Freddy's AR: Special Delivery
.
Appearance
He appears to be similar to the nature of Freddy Fazbear, almost sharing the same model with him. He has clove green in complexion, lime green in irises, white scleras, has a dark green leprechaun-themed hat, a golden beaded necklace and a dark green bowtie. His microphone is now a golden-green color and his top hat is replaced with a leprechaun hat. He represents on the materials and nature on celebrating the St. Patrick's Day.

---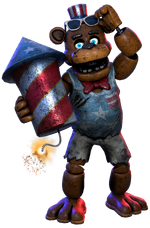 Firework Freddy
is a summer-themed skin of Freddy dedicated for United State's Independence Day (July the 4th) in
Five Nights at Freddy's AR: Special Delivery
. The skin was released on June 26th, 2020.
Appearance
While Firework Freddy has the same look as Freddy Fazbear, Firework Freddy now is wearing torn outfit. He wears a light blue-colored tank with star patterns on it and a grey shorts, as well as a red bowtie and a top hat with red and white stripes and stars. A notable appearance on Freddy is that he holds a large firecracker that is ignited, and he also has a sunglasses on him.

---
Trivia
FNaF VR: Help Wanted
Unlike becoming active on Night 3 in the original game he debuted, Freddy actually starts to become active on Night 2 in the FNaF 1 level.
Unlike in the original game, on Night 5 for FNaF 1, Freddy will stand directly in the doorway instead of staying in the corner.
Kellen Goff was supposed to be his voice actor in Help Wanted when Freddy Fazbear's theme is played. However, the theme song is removed and his lines are thus scrapped.

Coincidentally, Goff used to voice two of Freddy's counterparts namely Funtime Freddy and Molten Freddy.
Goff was also intended to voice Freddy in Ultimate Custom Night, but his lines were edited and used for Fredbear instead.

Scott said at the time, of all auditions, Goff's was the closest to what he wanted.
FNaF AR: Special Delivery
Within the FNaF AR trailer, Freddy is seen to have red glowing eyes, despite his eyes glowing blue in the game.
This marks the first time of Freddy actually speaking in-game (If the scrapped Showtime from Help Wanted and playing the Toreador March are not listed).

However, his voice actor is currently unknown.
In St. Patrick Day Event, Freddy is given several new voice lines as well.

Oddly, on the app icon Freddy's suit is more saturated than normal, giving his muzzle a more orangish look instead of the normal tan coloration.
For some reason, the trailer depicts Freddy with red eyes when attacking, but in game and in all other promotional material, his eyes are a light blue.

However if the players streak is high enough Freddy and all the other animatronics' eyes will turn red, implying that they are more aggressive.

Freddy was the very first character to gain a skin in Special Delivery.

Said skin is Shamrock Freddy.

In his profile pack in the shop, his eyes have somehow been replaced with money symbol eyes, but when selecting the icon, his eyes are back to normal.
Shamrock Freddy obtained a new plushsuit package and shop render during the Mashup Event to fit with the new style of the graphics.

As well as this, his eyes are for some reason blue instead of green within the graphics.
Oddly, Chocolate Bonnie didn't receive the same treatment despite having the old style like Shamrock Freddy.
Freddy In Space 2
Strangely, Freddy is the only character in the game who wears an astronaut helmet.