Not sure who made the render on the page? Check out the Wikia Credits!
"
I'm almost here... Won't you let me come in out of the cold?
"
 

— One of the emails sent by Frostbear
Freddy Frostbear is a Christmas-themed character that appears in Five Nights at Freddy's AR: Special Delivery. He is an icy blue reskin of Freddy Fazbear, except with a few minor changes.
Appearance
Freddy Frostbear's model is nearly identical to Freddy Fazbear, only icy blue with dark blue in place of the dark brown and black, and lighter blue in place of the lighter brown. He has a plaid bowtie, mistletoe on his top hat, a large icicle in place of Freddy's microphone, as well as small icicles hanging off of his ears. He has icy white pupils in his dark eye sockets.
Personality
Freddy Frostbear's personality is quite different compared to Freddy Fazbear. He never speaks in battle, but he does send the player emails, taunting the player with a bunch of cold puns. Additionally, he seems to be afraid of the cold even though he is literally made out of ice. However, he still has his similarities to Freddy Fazbear, as he is equally malicious and hostile.
Behavior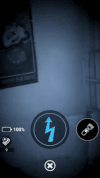 Freddy Frostbear first appeared in the Winter 2019 Event. He then reappears in Spring 2020, from April 3rd to April 8th.
Freddy Frostbear is much more aggressive than his normal counterpart, with behavior much like Baby. Instead of static, he will freeze the player's screen, forcing them to shake all of the ice off before they can act again. When he haywires, the player must not be looking at his face, or else he will jumpscare them almost instantly. The player must look down and look away when he goes haywire. He will fake charge the player on different occasions, staying invisible. When Freddy Frostbear materializes during his charge, the player must shock him. Failure to shock him in time will result in a jumpscare.
Audio
Description
Audio
Frostbear's Jumpscare.

(Warning: Loud)

Frostbear's haywire.
Frostbear's ambience.
Black Ice Frostbear's Jumpscare.

(Warning: Loud)

Black Ice Frostbear's haywire.
Black Ice Frostbear's ambience.
Skins
Freddy Frostbear has a current total of one skin in FNaF AR.
Black Ice Frostbear, otherwise known as Black Ice Freddy Frostbear, is the first skin for Freddy Frostbear in FNaF AR. He was released on December 4th, 2020 as the start to the
Winter Wonderland Event
.
Appearance
Black Ice Freddy Frostbear, similarly to normal Frostbear, is a Freddy variant made entirely out of ice. Black Ice Frostbear however is noticeably darker in color, and is covered in more ice, with spikes spewing out of his arms, legs and shoulders. His jaw is noticeably more jagged, and his snout is somewhat smaller, but has multiple spikes sticking out of it. His torso and top hat feature large gashes within them, making his endoskeleton visible in the torso. Finally, instead of his icicle, he holds a spear-like staff.
---
Trivia
Before he was available in the game, he had sent some E-Mails to the player teasing his advent.
| | | |
| --- | --- | --- |
| " | Brrrrrr! Sure is cold, wouldn't you say?! Hope your place is nice and warm! | " |
| | | |
| --- | --- | --- |
| " | On my way! I'm so f-f-f-f-fun! I'm cool enough to be your new best friend! | " |
| | | |
| --- | --- | --- |
| " | I'm almost here... Won't you let me come in out of the cold? | " |
He is the first custom animatronic in the game to not come from another game in the series, making his debut in FNaF AR.
Freddy Frostbear was introduced before the Skin System was put in the game, thus he becomes the only reskin of Freddy that doesn't count as one of his skins as of now. 
Freddy Frostbear is also the only animatronic to debut in FNaF AR that is not a different character's skin (as he is an animatronic of his own).

One could argue that 8-Bit Baby also debuted in Special Delivery. However, her first appearance was technically in Sister Location, as it is where the design was taken from.

Strangely, Black Ice Frostbear experiences condition effects when damaged, despite Frostbear himself not.
Similarly to how Freddy's skins don't keep the last name "Fazbear", Black Ice Frostbear dropped the "Freddy" from the name.

Some files however, do still refer to him as "Black Ice Freddy Frostbear".

For unknown reasons, Boulder Toy Bonnie's lures are presented on Black Ice Frostbear's shop render.
Black Ice Frostbear is the only skin to be featured as an app icon.
Kirin, the head of Illumix, revealed that Frostbear was meant to have a voice, but it was cut.

Community content is available under
CC-BY-SA
unless otherwise noted.