Not sure who made the render(s) on the page? Check out the >> Wikia Credits! <<
"
It's Me
"
 

— Golden Freddy's infamous line, and one of his hidden lines in FNaF AR.

Golden Freddy is a recurring antagonist in the Five Nights at Freddy's franchise, first appearing as an Easter egg in the original game. He returns as an enemy in FNaF AR: Special Delivery and as a playable character in Freddy In Space 2.
Appearance
Golden Freddy is a yellow colored Freddy reminiscent of the character Fredbear, with a black hat and bow tie, instead of Fredbear's purple hat and bow tie with a lighter color on his stomach and snout. He has empty eye sockets, which sometimes have white dots as pupils, and he's always appears slouched over.
In his teaser for FNaF AR, he keeps his normal appearance. However, he is now made of a metallic material, making him look like as if he is made of actual gold. Within the game itself, he does not appear this way however. Within the game, his arms are disjointed, and dangle below him.
Behavior
Freddy In Space 2

Golden Freddy does not seem to make a physical appearance in the game's story, making him more of an additional playable character. Golden Freddy can be unlocked in the game upon completing certain tasks. The player must first rescue Puppet in Stellar Pit, then head to Galactic Factory and fight Robo Chica WIP. After her boss arena, there is a gray box, which the player can only destroy with Puppet. Enter the small area until a sound effect plays. Upon that, go back to Robo Chica WIP's arena, and Golden Freddy will appear at the gate, slouched over. Go over him to make him join the crew.
Golden Freddy's attacks, up until level 4 are very weak, so it is recommended to level him up as soon as possible. This can be achieved by destroying Giant Terminator Chica, which can only be destroyed by Golden Freddy, and after that, she will give a total of 2500 EXP Points, enough to make a character go to level 4. His "IT'S ME!" attack becomes very deadly at max level, becoming one of the highest damage output weapons in the game, although, it lacks range, so it is very risky.
FNaF AR: Special Delivery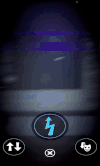 Golden Freddy was added to FNaF AR on December 20th as a reward for the Community Quest. All of his items in the shop could be purchased using the very event tokens that lead to his arrival, except for his Lures, which used Faz-Coins.
Within the game, Golden Freddy acts as a sort of combination various characters. His footsteps are like metallic springs moving, however they can change dependent on what mode he's in. Despite having different modes, he can only haywire while in Springtrap mode, possibly due to a glitch. At the start of the encounter, the phrase "It's Me" and his face will flash up on screen. The player is given a tablet that allows them to rotate between multiple different mechanics, being the flashlight, the mask, the shocker and the timer.
The battle acts in 3 phases, all being picked completely at random. Below are the 5 modes he can use in each phase:
Golden Freddy prefers to move while cloaked and charge at the player when they least expect it, his static is somewhat easy to track without the use of the flashlight. He cannot haywire in this phase. He decloaks from a mediocre distance from the player, shock to move onto the next phase or win.
Golden Freddy gains the power drain ability, where the player's power will quickly start depleting when a warning goes off. The player must use the mask to stop it. He cannot haywire in this phase. His static is medium at best and can be somewhat tracked without the flashlight, however it is recommended. When he decloaks, shock to move onto the next phase, or win.
Golden Freddy will now drop his top-hat, his microphone and his limbs onto the floor, which the player must collect quickly. During this, his footsteps become much faster. When he charges, he can decloak, use it to win or move onto the next phase. He cannot haywire in this phase. If he uses Mangle mode as his first phase, he will use Mangle's fast footstep patterns in conjunction with all following phases. Vice versa, if he uses the Mangle mode as a later phase, he will still step like normal despite dropping parts.
Golden Freddy is now capable of haywiring, chaining haywires together in random locations. The first haywire of a chain will be at the center of his locational static, the player must look at him while he has white eyes; but look away when red, the mask not affecting it. His static is now almost impossible to keep track of without the flashlight. His charges occur from closer than normal.
Golden Freddy now keeps track of the player's movement speed, and the player must move slow to avoid a jumpscare. During this, his footsteps become much faster. Collecting three objects he drops will make him charge at the player; either stare at him or shock him to end the phase. As well as this, the Minireenas return and act the same way; crawling up the screen needing to be knocked off. Similarly to Mangle mode, if you get Ballora mode as his first phase, he will use her fast footstep pattern in conjunction with all following phases, and vice versa. Due to a glitch, his encounter will be softlocked if you get Ballora mode as his first phase. If you get the Ballora mode as a later phase, he will be capable of charging and decloaking at any point regardless of how many Minireenas you have collected, so always be ready to swap to your shocker.
Note, it was originally believed that he could mimic almost all characters. In later updates, it's now been shown that these were due to glitches, for example, he was only meant to haywire during his Springtrap phase. Most of the other modes that were believed to exist were made based off his behavior being slightly different, such as not power draining during Toy Freddy, or not haywiring chaining during Springtrap.
Audio
Quotes
A list of Golden Freddy's quotes, all but two of which are reused from all the other characters that speak, minus 8-Bit Baby.
Skins
Golden Freddy currently only has one skin in FNaF AR.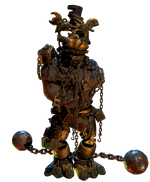 Great Escape Golden Freddy, or for short simply Great Escape Freddy, is the first skin Golden Freddy got in FNaF AR. He recieved this skin as a part of the special Mixed Reality DLC gamemode Dark Circus: Encore, that released on December 13th, 2021. He is available exclusively through purchasing and beating the DLC content.
Appearance
Great Escape Golden Freddy is identicle to Golden Freddy in coloration, still being yellow, but is now a much duller shade, with black and green sploches on his head, legs and feet. His head is severely withered in multiple areas, with most of it detrriorated or missing, including half his top-hat. His eye sockets are also completely empty, with holes going through the endoskeleton head, and a chain is running through his mouth. He wears a brown straight jacket with multiple golden chains running across it, with many locks, boxes and a giant black metallic collar around his neck. These chains also run down to his upper legs, with some hooks dangling from them. Finally, his legs and feet have shriveled, and his ankles have two giant ball and chains on them, keeping him from moving his legs (as seen in his workshop animation).
Trivia
Main Series
FNaF AR
Freddy In Space 2