This page contains a list of all merchandises released for Five Nights at Freddy's VR: Help Wanted, Five Nights at Freddy's AR: Special Delivery and Five Nights at Freddy's: Security Breach.
Mcfarlane
FNaF VR has very little merchandise. As of now, the only merchandise for the game are a few sets from Mcfarlane Toys, each based off a certain level from the game. These three mini sets released alongside many FFPS themed sets.
---
Funkoween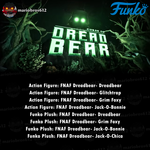 Recent leaks show that Funko will be releasing a Curse of Dreadbear wave, with actions figured for Glitchtrap, Dreadbear, Grimm Foxy and Jack-O-Bonnie. As well as this, there would be plushies for the same characters except Glitchtrap would be swapped out with Jack-O-Chica.
In May, the merchandise was properly announced, showcasing all that was listed above plus a figurine and plushie for Captain Foxy. Preorders became available on May 27th 2021.
---
The Special Delivery merchandises are done by Illumix themselves, along with some merch being made by Funko. All the merchandises are available in FNaF AR Merch Store.
Shirts
Sweet Surprise Limited Edition Collection
The Sweet Surprise Limited Edition Collection is a series of T-shirts and hoodies featuring Chocolate Bonnie. The collection launched on June 23rd, 2020. In addition, VIPs who had signed up for early access will have exclusive access two hours before its launch. This collection only has limited quantities available.
---
Let's Play Launch Collection
The Let's Play Launch Collection is a series of tanks, tees, long sleeves, and hoodies. Foxy, Balloon Boy and Springtrap are featured in this collection. The collection launched on June 23rd, 2020.
---
Eternal Collection
The Eternal Collection is a series of tees, long sleeves, sweatshirt and hoodies. The design of this collection is made to be simple and clean for everyday wear. The collection launched on June 23rd, 2020.
---
Posters & Mugs
The posters and mugs feature promotional arts made for Special Delivery. These merchandises launched on June 23rd, 2020.
---
Arcade Mayhem Event
The Arcade Mayhem merch event is a limited edition merch line made in the theme of Arcade Mayhem Event skins. This collection launched August 3rd, 2020 and is currently unavailable.
---
Random Merch Event

A small merch wave was released on October 12th. It included some miscellaneous merchandise, including shirts, posters, stickers and more. It had 4 different collections; the Wasteland Bundle, the Inferno Bundle, the Retro Glitch Collection and the Chromatic Crew Collection. On November 18th, they returned to this collection to add a sticker to the Chromatic Crew collection. Later on, a mug was added to the Sizzling Summer collection along with some Christmas themed merchandise.
---
Plushtrap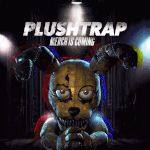 Along with Plushtrap's release, Illumix announced that Plushtrap along with the other Halloween Event animatronics would be getting their very own merch wave. Despite this, Plushtrap ended up being separated from the rest of the Halloween merchandise. Plushtrap also received an exclusive pin for Black Friday that came in limited quantities.
---
Black Friday & Anniversary Merch
For a black Friday sale, the Jack-O's and Catrina Toy Chica got a small merch wave. Originally, this wave was supposed to be released alongside Plushtrap's wave, however it was held off until the week of Black Friday. Along with the Halloween merch line, a large line of merchandise was released for the game's first anniversary, including new renders of all the characters in the game (before Haunted Forest). This, so far, is the biggest merch event Illumix has ever done.
---
Holiday Merch
For the Christmas season, Illumix released a small merch wave included a Freddy Frostbear sticker pack, and a poster of Toy Chica & Frostbear's original teaser. The merch wave also featured some bundles of previous merchandise, including some new caps for previous characters. As well as this, they made a Gift Bag + Tumbler Set for the Anniversary merch line.
---
Dark Circus Merch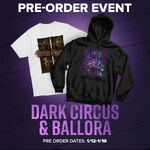 As the first merch release of 2021, Illumix released some merchandise for the Dark Circus event, featuring many shirts, hoodies & stickers themed after the Dark Circus. As well as this, two simple & unrelated hoodies were released, being just red or blue with the game's logo.
---
Sweetheart Deals Line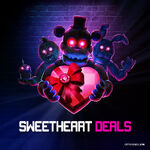 For Valentines Day 2021, Illumix released a small wave of merch based off the new skins and the old promotional art for Valentines day from when Toy Freddy first released. This line of merch is called the "Sweetheart Deals" line. This wave of merch was also released alongside a FNaF AR themed Water Bottle.
---
Funko Merch
Recently, Funko revealed that they would be making merchandise for FNaF AR, including specifically plushies and figures.
Frostbear & Easter Wave

The first Funko plushie for FNaF AR: Special Delivery was Freddy Frostbear, revealed alongside an action figure for him. The Frostbear action figure was the first to be released, and was actually leaked on Ebay where they began selling them for $65.00 a piece. As well as this, multiple plushies for the new "Spring Colorway" animatronics were revealed to be coming soon. Eventually, the Spring Colorway set was revealed alongside figures for Chocolate Bonnie, Easter Bonnie and the new Chocolate Freddy and Chocolate Chica.

---
AR Skin Wave
A wave of merch for the Arcade Mayhem and Wasteland skins were leaked, and later found in early February of 2022. Each figure was a glow-in-the-dark figurine, and a set of mystery minis for the same five characters were also revealed. Later, they were properly advertised on February 16th, along with the reveal of plushies and keychain pop figures for the set of characters, as well as plushies and figures for VR Toy Freddy's attack mode, Shamrock Freddy and Chocolate Freddy. The final merch revealed for this wave were "Inverted" plushies for the Arcade Mayhem skins and Radioactive Foxy, as well as a set of mystery minis featuring the Arcade Mayhem Skins, Wasteland Skins, 8-Bit Baby, the Heart Stoppers skins, Arctic Ballora, Frostbite Balloon Boy and Mangle.
---
Calendar
A 2021 16-Month calendar made by Trends was listed on Booktopia. Its cover features a cartoony style of Glamrock Freddy, Montgomery Gator, Roxanne Wolf and Glamrock Chica, and text reading Freddy Fazbear's Mega Pizzaplex, which is presumably the name of the location taking place in the game. It can be purchased at books-a-million. It mainly contains teasers for the images in the calendar
"

Life is sure to take you on quite the adventurous ride with this Five Nights at Freddy's wall calendar, filled with your favorite characters from the smash hit videogame series. Never take your eye off the prize! Sixteen-month wall calendars include each month in 2021, as well as the last four months of 2020, and are printed on paper certified by the Forest Stewardship Council.

"
 

— The description of the product.
---
Action Figures
A series of action figures for Security Breach characters are made by Funko. These products are listed to be released on September 17th, 2020. The Security Breach line consists of Glamrock Freddy, Glamrock Chica, Montgomery Gator, Roxanne Wolf, and Vanny.
---
Mystery Minis
The Mystery Minis for Security Breach are made by Funko. The Mystery Minis series currently consists of Glamrock Freddy, Glamrock Chica, Montgomery Gator, Roxanne Wolf and Vanny. Some of the characters also have different versions, such as Blacklights, Metalic, Glitter & Glow, and Flocked.

---
Plushies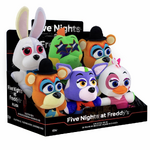 Plushies of the
Security Breach
were listed by Funko, and made available for purchase on August 24th, 2020. The plushies currently consists of
Vanny
,
Roxanne Wolf
,
Glamrock Chica
,
Glamrock Freddy
and
Montgomery Gator
. For unknown reasons, less than a day after the plushies were initially revealed and made available for purchase; each plushie except Glamrock Freddy was taken down, and all orders made on the other four were refunded. On September of 2021, a 16
Vanny plushie was revealed as a gamsetop exclusive.
Near the end of October, four new blacklight plushies were revealed for each Glamrock animatronic. As well as this, it was revealed that the original wave of Security Breach plushies would start being sold with higher-quality fabrics more akin to Funko's other FNaF plushies.
---
Poster
On August 8th, 2020, a poster was found on Trends International, featuring all the main characters in Security Breach: Glamrock Freddy, Roxanne Wolf, Glamrock Chica, Montgomery Gator and Vanny. The poster is available to purchase in Shops Trend, being 22.375" wide and 34" long, and is priced $19.99[1].

---
12" Figurines
Scott and Funko worked together to make two 12 inch tall figurines to quote "try to win you all over again and prove we could design great looking products". The two figurines feature Glamrock Freddy, Gregory and Vanessa.
---
Blacklight Slime
On October 14th 2021, a wave of Blacklight Slime came out themed around Security Breach, featuring Glamrock Freddy, Montgomery Gator, Glamrock Chica and Vanny. Strangely, unlike the first wave, none of the characters are recolored to be blacklight variants, and simply stay the same color schemes as their in-game appearances.

Just Toys Merch
Just Toys released a Security Breach wave of their FNaF hangers for Halloween, featuring 6 figurines of each Glamrock, Vanny and a special glow-in-the-dark Vanny. The wave was actually not heard about until November 7th when people started finding the figurines on store shelves.
On top of the hangers, six figurines for each character were made. Each figurine uses the same mold as the hangers, but now have a unique base to allow the figure to stand.
---
Creator Ink Merch
Near the beginning of November 2021, Creator Ink had released their Security Breach merch line. The line featured multiple shirts, pins, jackets and other accessories based around the four Glamrock animatronics. It also included an Acrylic LED light display featuring Vanny and the Glamrocks.
---
Youtooz Merch
A set of Security Breach Youtooz figures were confirmed to release at around March/April of 2022. Later, a preview of the figures was shown, featuring Vanny's full figurine and the boxart for the Glamrocks. Along with the figures, a Vanny plush was shown off to release with the wave.
Merch
---
Sticker Pack
As a bit of extra merch for the game, a small sticker pack would come with Security Breach's PS4 & PS5 physical releases. The sticker pack includes one sticker for each of the four Glamrocks as well as two for both forms of The Daycare Attendant.

---
Youtooz Figures
On March 26th, 2021, YouTooz announced during an AMA on Reddit, that they will be making figures for the Fazbear Fanverse alongside the original Five Nights at Freddy's series.[2]
Funko Plushies
On January 21st 2022, Kane Carter, the creator of Popgoes, confirmed that plushies for Popgoes the Weasel and Candy the Cat would be coming out in the fall later that year.[3]

---
Trivia
Unlike other launch collections for Special Delivery, the Sweet Surprise Limited Edition Collection was teased on April 11th, 2020, and the fans were able to reserve their shirts.
A collaboration between Illumix and a VR game called Rec Room was done to promote the Special Delivery merchandise. The player are able to obtain a Forever Friends hoodie (one of Eternal Collection) by logging in the game between July 3rd and 5th 2020.
The AR merchandise being made by Funko revealed that there would be a new set of animatronics called the Spring Colorway animatronics.

Based off the descriptions in the initial leak, it seems that they will be similar to the blacklight line.
As well as this, Funko revealed they would give Freddy and Chica chocolate variants like Chocolate Bonnie.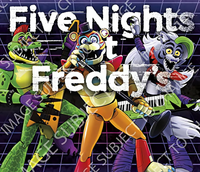 The Security Breach 2021 calendar was leaked on Amazon earlier, having an early cover design. The cover features Glamrock Freddy, Montgomery Gator and Roxanne Wolf in their animatronic looks instead of the cartoon-y look in the final design. It was listed to be released on July 15th, 2020 until it was taken down.
The action figures and mystery minis made by Funko was teased by them on Twitter, before Vanny and Glamrock Chica were revealed (other characters' design had already been leaked via the calendar).

This causes outrages in the fanbase, and Scott Cawthon commented on the case, telling the fans to "try not to let any of this bother [them] too much. Things will be happening very, very differently going forward.[4]"

The Bonnie merch card depicts Bonnie's eyes as yellow despite the fact that his eyes are magenta.
Chocolate Freddy & Chocolate Chica are the first merch-exclusive characters for FNaF AR.
The Spring Colorway set, despite being desaturated versions of the Blacklights, are considered part of Funko's FNaF AR line of merch.
The poses used for the Arcade Mayhem and Radioactive Foxy POP! Keychains were actually taken directly from Triple A Fazbear's own renders made by Ramchoops.
Reference