This page contains a list of all merchandises released for Five Nights at Freddy's VR: Help Wanted, Five Nights at Freddy's AR: Special Delivery and Five Nights at Freddy's: Security Breach.
Trivia
Unlike other launch collections for Special Delivery, the Sweet Surprise Limited Edition Collection was teased on April 11th, 2020, and the fans were able to reserve their shirts.
A collaboration between Illumix and a VR game called Rec Room was done to promote the Special Delivery merchandise. The player are able to obtain a Forever Friends hoodie (one of Eternal Collection) by logging in the game between July 3rd and 5th 2020.
The AR merchandise being made by Funko revealed that there would be a new set of animatronics called the Spring Colorway animatronics.

Based off the descriptions in the initial leak, it seems that they will be similar to the blacklight line.
As well as this, Funko revealed they would give Freddy and Chica chocolate variants like Chocolate Bonnie.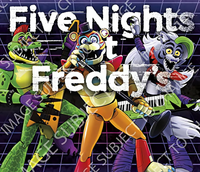 The Security Breach 2021 calendar was leaked on Amazon earlier, having an early cover design. The cover features Glamrock Freddy, Montgomery Gator and Roxanne Wolf in their animatronic looks instead of the cartoon-y look in the final design. It was listed to be released on July 15th, 2020 until it was taken down.
The action figures and mystery minis made by Funko was teased by them on Twitter, before Vanny and Glamrock Chica were revealed (other characters' design had already been leaked via the calendar).

This causes outrages in the fanbase, and Scott Cawthon commented on the case, telling the fans to "try not to let any of this bother [them] too much. Things will be happening very, very differently going forward.[3]"

The Bonnie merch card depicts Bonnie's eyes as yellow despite the fact that his eyes are magenta.
Chocolate Freddy & Chocolate Chica are the first merch-exclusive characters for FNaF AR.
The Spring Colorway set, despite being desaturated versions of the Blacklights, are considered part of Funko's FNaF AR line of merch.
Reference