Welcome to the Triple A Fazbear Wiki!, the encyclopedic wikipedia home to fresh and in-production games of the Five Nights at Freddy's Universe after Ultimate Custom Night for the all of inclusive fanbase. All of these new games are developed and produced by Scott Cawthon, with the collaboration of multitudes of companies alike.
We want to keep the wiki in order and in safe viewing for the community, so that's why we need your help! Do your part by editing through adding necessary information, correcting errors and also talk with your fellow editors!
Here are some facts of Five Nights at Freddy's!
Burntrap holds a lot of scrapped content including scrapped animations, data for a chase sequence, and Matthew Curtis' lines for him that were only found in the trailer.
Burntrap's model was slightly made from the scrapped Spring Bonnie model, specifically his mask.
The only ending that requires all three glamrocks be shattered is the Afton ending. Even if Montgomery was shattered before Chica, the player would simply have to go through Fazer-Blast and go back to the lobby exit to initate the Vanny & Princess Quest endings.
The Daycare Attendant can actually be heard laughing during the Daycare's musical track, even if he can't be seen inside.
Foxy, despite having a lot of advertising & attractions themed around him, makes no physical appearance anywhere, nor is mentioned to be gone in a similar way that Glamrock Bonnie is.
See more in the FazFacts Archive.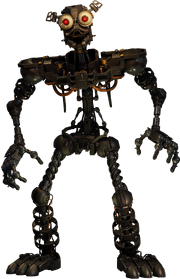 The Glamrock Endos are a large group of unused endoskeletons found in the basement of the Mega Pizzaplex. They become a reoccuring group of antagonists throughout the game.
Read more...