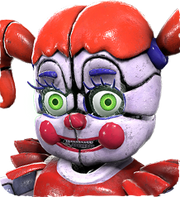 These are the editing policies in the Triple A Fazbear Wiki, in which, all users should follow in article and media editing.
You must create a wiki account to edit any pages on this wiki.
Read each article in its entirety before editing.
Try to be as accurate as possible when editing articles.
Keep information consistent as possible.
Do not make the articles redundant!
Do not create unnecessary/spam articles.
Do not make random, unneeded edits with the soul purpose of obtaining badges.
Do not edit other user's pages.

Especially if the user is a staff member.
Instead of using first-person or second-person pronouns, use third person, such as they, it, them.
Instead of using "you", use "the player"

Unless it is a quote or dialogue.

Do not discuss gender debates, that applies to article comments, message walls and the Community Tab. Some animatronic's genders are not confirmed, so don't start up any conversation about gender debates.

If you are trying to edit unconfirmed character's genders, please don't. Keep the specified character's genders as "Debatable".
Do your best to keep any abbreviations that may be used consistent.
For example, we abbreviate Five Nights at Freddy's as FNaF. Simply follow suit!
Here is a list of all possible abbreviations within the games:

Five Nights at Freddy's - FNaF or FNaF 1 (preferred)
Five Nights at Freddy's 2 - FNaF 2
Five Nights at Freddy's 3 - FNaF 3
Five Nights at Freddy's 4 - FNaF 4
FNaF World - Already an abbreviation
Five Nights at Freddy's: Sister Location - FNaF: SL (preferred) or SL
Freddy Fazbear's Pizzeria Simulator - FFPS
Ultimate Custom Night - UCN
Five Nights at Freddy's VR: Help Wanted - FNaF VR (preferred) or FNaF VR: HW
Five Nights at Freddy's AR: Special Delivery - FNaF AR (preferred) or FNaF AR: SD
If you want to theorize about the story, a character, or anything of the sort, create a blog or a forum post instead.
Do not attempt to slip your own theories into a wiki page.
This also goes for indirectly trying to disprove theories. Keep your opinions to yourself.