The update history for Five Nights at Freddy's VR: Help Wanted is a list of updates added to the game over time.
Patch 1
"Adding DRM to patch an exploit" was the only thing done in this patch.
Patch 2 (5 June 2019)
This patch has fixed several bugs in the game, as well as some changes.
Fixed a potential crash when obtaining the final Trophy.
Fixed an issue where you could lose your hands and crash when eating items or throwing them in the garbage. 
Fixed issues with Freddy and Foxy at the door on the FNAF 1 Night 5 level. 
Office cameras update every frame.
All prizes can be won on any minigame now.
Fake coin removed in the Circus Baby level.
Fixed an issue where coin prizes wouldn't unlock until you had one more than the required amount.
Patch 3 (22 June 2019)
Patch Note
Bugs fixed and changes done in this patch are listed out by Steel Wool Studios.
Improved performance and reduced memory usage of cameras in FNAF 1, 2 and 3 for Oculus.
Fixed possible crash when attempting to put on the Freddy mask in FNAF 2 levels.
Fixed several animatronics still attacking after 6 AM.
Fixed issue with 8 ball falling through the floor.
Fixed 6 AM display screen for Night Terror levels and Plush Baby.
Fixed issue with screen going black and not being able to use the flashlight when holding the door shut in Night Terror levels.
Fixed possible instant jumpscare in Funtime Foxy Nightmare Mode.
Fixed an issue in Mangle interacting with levers too quickly.
Fixed possibility of throwing pizza in the trash resulting in failure on Repair Chica.
Fixed an issue with the cupcake never reappearing in Repair Chica.
Added player height adjustment using left stick on Oculus and left touchpad on Vive.
Subtitles are stopped when audio is skipped in Mangle and Ennard levels.
Fixed an issue that could cause the Freddy mask to get stuck on the player's head.
Funtime Foxy will no longer clip through the wall.
In FNAF 1 through 3 the phone can now properly be muted.
In FNAF 1 Foxy will no longer attack after power outage.
Unlisted Feature
In this patch, they also secretly changed the image appeared on the TV screen in Prize Counter once the player presses the button in the basket of Exotic Butter. An image of Lolbit with the text of "Please Stand By." now replaces the endoskeleton picture taken by Scott.
Language Support Patch (10 July 2019)
As the title said, this patch added subtitles in the following languages: Simplified Chinese, Traditional Chinese, Japanese, Korean, Brazilian Portuguese, Spanish, French, German, Russian, Arabic, and Polish.
They also changed the image on the TV screen in Prize Counter that appeared when the player presses the button in the basket of Exotic Butter once again. They had replaced it with the image of the Withered Animatronics, teasing the Withereds Update that happened some time later.
The Withereds Update

An additional hard mode challenge with the Withered Animatronics is added in the
FNaF 2
challenge. Different difficulties can be chosen in this specific challenge: Easy, normal, and danger. The Withered Animatronics will be active along with the Toy Animatronics.

As the Withereds Update has been done, Steel Wool had replaced the teaser on the TV screen once again. This time, they replaced it with an image that seems to be a hand coming out from the grave. Some people speculated that this is teasing a Halloween Update, and is also teasing the return of Scraptrap from
Pizzeria Simulator
. However, when the first trailer of
Curse of Dreadbear
DLC, it is said that the teaser came from a frame of the trailer.
Flat Mode Update
On December 18th, the game is majorly updated with a flat mode. This mode allows the player to play the game without using the VR headset. In this update, the
Pizza Party
level is updated too, with a new secret area added into the final part of the level, teasing the new 2020 game by Steel Wool. The
Pirate Ride
has also been updated with two new areas to access, both being the
Boiler Room
.
The update history for Five Nights at Freddy's AR: Special Delivery is a list of updates added to the game over time.
Note: The updates that only introduced events will not be listed here. For event updates please go to Events.
Launch Update
This update has officially launched the game from early access on 16th November 2019. This update has included some bug fixes as well:
Fixed an issue where animatronics got lost and were not being recalled properly.
Fixed an issue where players were going for a long time without receiving any animatronics.
Improved inbox message management to reduce chances of crashing.
Friend Code Update
This update is implemented on December 10th. The update is mainly to bring the new feature - friend code to the game. Some bugs are fixed as well alongside the new feature.
"

New Features

Friend Code is here! You've now got a lovely little thing called a Friend Code to make it easier to friend others in-game and send out animatronics. So post on Twitter, text, get a billboard - it's all up to you how and where you want to share it!
On that note, when you send an animatronic to your friends, they'll now be notified that it's on it's way. It's always lovely to be notified when a friend is popping by for a visit...

Bug Fixes

In our last update post, we mentioned there was an issue in the tutorial depending on which language settings were turned on - This should be fixed completely!
We've managed to fix one of the missing item bugs from the Workshop (don't worry, they should still be there, they just weren't visible). We're still working on other causes of this issue.
Players who got stuck in the initial introduction video should find their experience improved - hopefully no issues at all!

"
Christmas Update
On December 20th, a few days before Christmas, the game was updated with new content and bug fixes. The game was Christmas-themed, and Toy Chica is added into the game.
The player can now encounter a new animatronic, Toy Chica.
The player has the opportunity to get gift and goodies every few hours.
The map is filled with snow to go along with the Christmas theme.
The player is now able to rotate your animatronics within the Workshop.
The player's animatronics now benefit from up to 100,000 Remnant.
Remnant spawns have been adjusted to assist with clarity. It will be easier to determine which Remnant is more valuable.
Animatronic repair costs have been significantly reduced so that the player should almost always see at least a little bit of Parts profit by sending animatronics out, even if the player is not defeating animatronics in camera mode.
January 2020 Update
On January 15th 2020, Illumix pushed out their first update for 2020. The update was mostly bug-fixing, but there are some new changes to the inbox system. The player can now sort out the E-Mails received by New, Story, Notifications, Fazbear, and All.
Valentine Update
To go along with the Valentine event, an update was pushed out on February 6 as well. They added Toy Freddy in the game (he wasn't available until the day after the update, however), and had added some new features as well.
The player can now encounter the previously event-exclusive Toy Chica normally.
The player can earn Faz-Coins by watching ads, 10 coins are given with each ad.
Freddy's nose in the Shop section can be honked.
Bugs causing undelivered rewards are being fixed.
Presents in the later event will a broader range of gifts.
Mangle Update
An event featuring Mangle was started on March 6, 2020. And to go along with the event, an update was pushed out earlier. Alongside the event, some new features are implemented as well:
New Daily Challenges.
New Push-Notification functionality (for turning on).
You can buy devices straight from the Device Screen.
Remnant acquired through the Gift Box now count towards Remnant Milestones.
Salvage rewards are now batched together, if the player has multiple animatronics salvaging, they will only get one message per salvaging period with their combined discoveries.
Some bugs are fixed/addressed in the update too:
Addressing errors from the workshop (broken animatronics still salvaging, etc).
Fixed more 'Out of Order' issues (rewards not given).
Addressing Balloon Boy's stalking time.
Addressing higher-than-normal Crash Rates on some devices.
Easter Update
The Easter Update was pushed out on April 8th, adding several features as well as removing some bugs. There is also a new skin of Bonnie being added which started appearing a few days later.
New features have been added to the salvaging mechanic. Some of the big changes include:

Being able to set a timer for how long will animatronic take to salvage for.
Getting an automatic notification when it returns.
Removing the Salvage emails so that the inbox is less cluttered.
Everything the animatronics find is rewarded in the workshop when they return - retrieve it by tapping the gift box.

A notification will be received saying which friend has sent the player an animatronic.
The player now have the option to swap out one of the three daily challenges for another every day.
More "Out-of-Order" bugs is fixed (rewards not given) so that it should happen with less frequency.
Arcade Mayhem Updates
Several updates were pushed out on May 2020 in associate with the Arcade Mayhem Event. Four skins were introduced in their own updates, including VR Toy Freddy skin on May 8th, Highscore Toy Chica skin on May 15th, System Error Toy Bonnie on May 22nd, and lastly 8-Bit Baby as a standalone character on May 28th. On May 14th, a small update is pushed out as well:
The workshop is updated with a whole new skins system to keep things organized.
Bugs fixing and optimizations to keep everything running smoothly.

A fix for the missing Bare Endo slot issue has deployed.
Addressing the duplicate/broken slots issue that many are experiencing.
Scorching Chica Update
On August 7th 2020, a bug resolution update was pushed out along with a new release of a Chica skin named Scorching Chica. The patch note is as followed:
Fix for no animatronics spawning on map.
Fix for lures that didn't seem to work.
Fix for animatronics sent by friends not appearing.
If you used lures awhile ago, they're still active, they were just stuck in a queue.
2020 October Update
On October 7th 2020, a new update came to FNaF AR, bringing brand new features and bug fixes. The update came out just two days before the Halloween Event. The patch note is as followed:
This update has both given the map a higher level of interactivity, and you as the player a lot more flexibility with your play style across FNAF AR. We know some of you are workshop fiends, some, dedicated remnant collectors, and still others of you do constant battle with animatronics. There are also those of you who are an awesome mix of all of the above!
You'll now see lots of blue question marks scattered across the map--which represent the wide range of special deliveries available to you if you tap on them, including animatronic encounters, remnant collection, and reward pick-ups.
Animatronic encounters have been updated with a brand new scanning function that allows you to get up close and personal with different animatronics on the map before battling them. Each animatronic has a perception and aggression meter--and it will be up to you to receive your special delivery or make a quick escape...if you can...
Remnant can still be collected as usual when you discover a remnant deposit on the map.
Rewards now come in a delightful Fazbear Entertainment balloon parcel--pop them to receive your rewards! You'll also be able to discover them from time to time on the map when you're exploring the blue question marks.
Friend-sent animatronics and lures will appear on the map as they did previously.
Catrina Toy Chica Mini Update
Along with the arrival of a new skin, Catrina Toy Chica, Illumix reported on some small bug fixes.
Restoring the missing Endoskeleton Slot to players who purchased the Funtime Starter Pack a while ago.
Solving the visual store bug where people who bought the mini-packs in the store might see those packs reappear again.
Also, adjusting the store so that players who already own certain plush suits, CPUs, or profile icons will no longer see the mini packs, skin packs, party packs, or profile packs available for purchase in store.
Resolving the Halloween Event Rewards lure display bug
Resolving highest reported crash bug on iOS--and continuing work on stomping out other crash bugs that pop up
Golden Freddy Update
Along with the Community Quest character, Golden Freddy, a large update came to FNaF AR adding the following features and announcements:
Golden Freddy is here to visit Winter Wonderland! We added him to this update as quickly as possible after everyone completed the community quest. The event tokens you've earned can be exchanged for his plush suit and CPU--quite a few of you have already gathered enough tokens to get these immediately!
The first version of Fazbear's Photo Booth has arrived--trade in your tokens to open it up and start taking pictures. Look forward to the many more features that'll come with updated versions of the photo booth! 📸
(Note: Photo Booth was later removed with the addition of Frost Plushtrap)
Get in the holiday mood with seasonal profile icons that can be redeemed with event tokens in the store.
More bug fixes and optimizations for the game.
One last skin will round out the Winter Wonderland event next week, and a few old friends will also be returning for a brief time!
Heart Stoppers Mini Update
Along with the Heart Stoppers Event, the game saw the return of the Photo Booth Mode, now revamped and reworked to fit what fans had requested back when it was initially released.
The Big Spring Gameplay Update
The Big Gameplay Update was announced in March of 2021, and initially planned for April. The update wasn't finished yet however, and ended up getting a small update on April 30th with Illumix explaining that it would be "coming soon" and that they were almost done.
The update finally released on May 18th, 2021. With it came the additions of:
A new gameplay UI.
A new type of prize balloons.
An EXP leveling system.

The system would grant the user prizes based off their level. All players began at level 1 when the update came out.

Streaks reworked to give EXP.
Health Bars for animatronics.
The introduction of player buffs.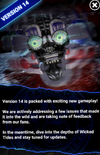 New leaderboards.
All characters can now have Plushtrap's CPU.
Attack and Durability stats for animatronic encounters.
Mangle, Ballora and Plushtrap are added to character rotation, and can be encountered normally once the player reaches a certain level.
The announcement and teaser of a skin event the same week.
The update came along with quite a few bugs, and Illumix later addressed that they'd fix them in the future.
Upcoming Fall 2021 Update
On July 15th, 2021, Illumix confirmed a large update coming in Fall of 2021 that would include;
- Dynamic asset loading to reduce crashes - Apple account sync to help you recover your accounts - Lengthy encounter fix - Event reward fixes - Battery fixes for Plushtrap encounters - Golden Freddy noise meter fix - Animatronic remnant assignment fix - Updates to localized text for our players worldwide - "And Many More!"
Illumix also confirmed a Blast from the Past event would be coming, as well as many more characters, an alternative to the microtransactions and more Mixed Reality gamemodes. This update would act as a sort've "DLC Expansion Pack" to the base game, and it is unclear if it's a limited time offer or an offer that will stay standing through AR's lifespan.
14.5.0 Update
The 14.5.0 Update was a very small update fixing bugs and tweaking a few minor UI related things. The update includes;
Frost Plushtrap and Piranha Plushtrap now use their environments when sent by friends.
New asset loading.
Some UI moved slightly upwards (specifically the plushsuit selector in the Workshop).
Minor bug fixes.
"Oh no, this article is not in best condition. This is not good. An improvement may be helpful."


As an editor of the wiki, do your part by adding confirmed and accurate information. Remove this notice once it hits a thousand bytes. Please help the Triple A Fazbear Wiki by expanding it.
Thank you!
FNaF 1
iOS & Android
08/07/2020
Options screen which includes aspect ratio toggle
Improved audio support
Various fixes and improvements
FNaF 2
iOS & Android
Version 2.0.2
New options
New Toy Bonnie action figure for your desk (New and Shiny challenge reward)
Improved panning method
Improved Customize Night screen
Improved virtual gamepad
Improved audio support
Fixed the issue that allowed Foxy to be active when his AI was set to zero
The app can now switch from one landscape orientation to the other
Various Fixed and improvements
FNaF 4
Nintendo Switch
Patch 1
Fixed - Volume is overall low in app
Fixed - Missing Honk
Fixed - Delayed Jumpscares
Fixed - Framerate issues
Fixed - UI graphical issue
Fixed - Flashlight working improperly
Fixed - Access 20/20/20/20
Fixed - Other misc issues
Sister Location
07/31/2020
Adding an option to change the speed of the cursor control for both analogs.
Revamping certain parts of the Custom Night control scheme.
Add quick camera pan shortcuts to D-Pad.
Pizzeria Simulator
11/03/2020
Fixed issues with liability stagnation.
Fixed unlimited money exploit.
Added more d-pad controls throughout the game.
Restored some missing sounds on Switch.
Fixed Candy Cadet.
Fixed Mediocre achievement on Xbox One.
Fixed unlimited playtests exploit.
The update history for Five Nights at Freddy's: Security Breach is a list of updates added to the game over time.
February 2022 Patch
Upon release, the game received a bit of backlash for being buggy and poorly optimized, which Steel Wool began to fix almost instantly, releasing their first patch in February of 2022. The fixes were explained via a blog post on Steel Wool's website.[1] The fix list was initially rather small, but was updated greatly when the patch itself came out.[2]
General Changes
Added a Save Station that can only be used in Overtime located on the 2nd floor of the Atrium
Added a limit of 50 for manual saves
Adjusted all cinematic cameras to receive current Gamma and Brightness settings
Added the skip function to most major cinematics
Added color coding to the Daycare Generators' wires similar to Parts & Service
Added in a Loading Screen when you start/load in a game, enter/exit arcades, or have a longer loading time between areas
Added in Comedy Bot's comedic routine
Added in a Fazwatch camera instruction card in the Lobby to further encourage using cameras to plan routes through obstacles
Added in new message icon art for when players pickup message bags
Reduced S.T.A.F.F. bots' and Animatronics' stun length when hit with the Fazerblaster and adjusted the Fazerblaster's cooldown
Added in new spotlight and signage for the trash compactor in the Kitchen
Added in new Atrium signage for Loading Dock Bathrooms
Added in new 'No Chica' signs added to the gates that require her voice box to open
Added in more hiding spots in the Lobby
Adjusted Burntrap's Boss Battle to be more balanced
Adjusted light radius on all S.T.A.F.F. Bots be more performant
Adjusted and optimized the Faz Watch to be more performant
Adjusted the conveyor belt speed in Princess Quest 3
PS4 Specific Changes
Adjust the default PS4 Gamma and Brightness to accurately reflect the intended lighting
PC Specific Changes
Added in DLSS and Ray-tracing as separate options in the Video Menu settings
Fixed an issue where the 'TROPHY TIME' achievement would not unlock after acquiring all other achievements on Steam
Minor reduction in overall on-disk size
Bug Fixes
Removed the 'Damaged Head' item during Overtime that caused story time to revert back to 5AM with all save stations available.
Fixed an issue where exiting the Upgrade Console before selecting an upgrade will disable all Save Stations
Fixed an issue where entering Chica's recharge station too quickly after receiving the Party Pass resulted in a hard lock
Fixed an issue where jumping and quickly hiding would unload the level
Fixed an issue where starting a Parts and Service upgrade while controlling Freddy caused a black screen
Fixed an issue where repeatedly entering and exiting any hiding spot caused the player to get stuck
Fixed an issue where you could not get caught by Chica if you went the wrong way in "Get Out"
Removed Chica's guitar riff audio after you come back to Rockstar Row
Fixed an issue where the 'Use the Prize Counter elevator' appears despite choosing the Loading Dock route
Fixed the hour indicator after completing the Daycare Mission and leaving the recharge station in Parts and Service
Fixed the "Misc" category in the Inventory Menu
Fixed an issue where the Kitchen Office door did not close upon entering
Fix an issue where the Burntrap Boss Battle's flame traps did not work
Fixed pathing for Roxy's and Monty's AI during the Prize Counter Office game.
Fixed an issue where the level could unload when Sun catches and returns the player to their initial position
Fixed a soft lock when quitting to the Main Menu during the cutscene when Moon drags Freddy away
Fixed an issue where the 'SHATTERED DREAMS' trophy does not unlock after shattering Chica in Overtime.
Adjusted all message bags' interactions to always be collectible
Fixed an issue where triggering the Sun and Moon transformation cinematic while closing the flashlight instruction card softlocks the game
Fixed performance issues while using the Fazwatch in the Mazercise control room
Fixed an issue where Freddy would not enter the recharge station if he was at low power and was not hacked during the Burntrap Boss Battle
Adjust the Backstage Office game so that the door buttons are only accessible to players once the dialogue and/or sequence are completed
Fixed an issue where Freddy would not go to the recharge station if the player controls Freddy at low power
Fixed an issue where players could repeat the Backstage Office Game after completing it the first time
Fixed an issue where Shattered Roxy would slowly shuffle towards the players if they used the noisemakers in the fire maze
Fixed an issue where end game credits could not be paused when the player pauses the game
Fixed an issue where higher level security doors could be bypassed by entering/exiting Freddy
Removed the debug menu in Monty's Mini Golf so it is no longer accessible to players
Fixed an issue where Chica would not path to the bathroom after completing the Loading Dock route
Fixed an issue where AIs spawned right next to the player upon hitting 'Retry'
Fixed collisions in Kitchen, Backstage, Daycare, Monty's Gator Golf and Rockstar Row
Fixed an issue where Freddy does not despawn during Chica's Boss Battle intro cinematic
Fixed an issue where Freddy's static reflection would stay facing forward in the mirror after the initial cutscene
Fixed an issue where Moon's end-of-the-hour hunt does not activate after the Voice Box Upgrade if the player left Parts and Service during the Freddy/Gregory dialogue
Players can no longer skip the wire-connecting memory game portion during the Ocular Upgrade
The 'Retro CD' and 'All' subcategories in the Inventory Menu can now be accessed with a controller
Fixed egregiously misaligned walls and carpets in Rockstar Row.
Fixed level loading issues in Kitchen room levels
Fixed an issue where Shattered Chica could speak despite completing the Kitchen Office game after shattering her
Fixed a graphical corrupt texture that pops in outside of the Prize Counter Office
Fixed an issue where choosing to 'Stay' did not mark the already-completed Loading Dock objectives as completed
Fixed an issue where Glamrock Roxy will patrol Prize Counter instead of Shattered Roxy after completing the Prize Counter office game
Fixed an issue where DJ Music Man's jumpscare would fade to black mid animation
Fixed an issue where all of the "H"s in the cipher messages were incorrectly replaced with "N"s
Fixed Monty's patrol path during the West Arcade mission
Fixed an issue where the mouse cursor was visible during the opening cinematic
Fixed an issue where the audio slider's position didn't accurately reflect first time launch settings
Fixed an issue where the in-game timer does not accurately reflect play time
Fixed the duplicated Fazwatch CAM feed in the Kitchen Syrup Vat room
Fixed Monty Gates with better collision and physics
Fixed vent collision and level streaming issues leading into Monty's Boss Battle
Fixed collisions around the Atrium's Party Check-Ins
Fixed an issue where the "Survive until Freddy shuts down the alarm" objective does not get marked complete after finishing the Prize Counter office game
Fixed an issue where the Prize Counter Office cameras did not appear on the Fazwatch during the Prize Counter office game.
Fixed instruction card disappearance when pausing the game
Fixed visual overlap when players switch between items too quickly
Fixed issue where players could leave the security area without collecting the flashlight in Daycare
Adjusted wall collisions in Fazer Blast's play area
Adjusted camera and clothing display in the Inventory Menu.
Fixed an issue where S.T.A.F.F. Bots in the Laundry Room could discover the player inside hiding spots
Fixed an issue where Moon's jumpscare did not appear when controlling Freddy
Fixed an issue where the player could skip the Vanny at the fountain cutscene by exiting Freddy outside the turnstiles
Fixed an issue where players could get stuck at the bottom of the screen in Princess Quest 3
Fixed an issue where closing the flashlight recharge instruction card required players to double click on buttons for Parts and Service minigame
Fixed an issue where Freddy could be glitched into the Monty's Boss Battle
Fixed an issue where Monty could jumpscare players during the Chica appearance in the "Get Out" chase sequence
Adjusted collisions, texture resolution, egregious LODs, and light bakes in Sewers
Fixed an issue where the ending cinematic did not properly play when you completed Princess Quest 3
Adjusted collisions between player and Mazercise's controls panels
Fixed an issue where two Chicas would spawn by playing the Kitchen Office Game at 4 AM
Fixed clipping issues on the door leading into the Crash Cam Observation Deck
Fixed an issue where the Main Pizzaplex entrance closed as the player reloads their autosave
Fixed an issue where a S.T.A.F.F. bot teleported behind the Monty Golf sign in Atrium
Fixed an issue where Freddy could be called and could jump scare the player during credits
Fixed an issue where Freddy was missing after retrying in the Parts and Service minigame
Fixed an issue where the "Let There Be Light" objective texts were missing
Fixed an issue where the flashlight power runs out during the credits
Fixed an issue where you can hear Prize Counter music during the Prize Counter ending credits
Fixed an issue where Sun's VO would play behind the Daycare Security Desk during "Let There Be Light" mission
Fixed an issue where the Party Pass instruction card interrupts Freddy's dialogue if the player chooses to stay
Fixed an issue where a button on the Mazercise Control Panel had no functionality
Removed the interact wireframe in front of Chica's Feeding Frenzy Arcade Cabinet
Removed 'Force Restart' UI when restoring default video settings
Fixed Balloon World's tiling issue disappearance
Removed the Fazwatch interface while playing Monty's Mini Golf
Fixed gamepad interaction with the Main Menu and Options Menu
Fixed an issue where remapped controls did not apply after relaunching the application on console
PC Specific Changes
Fixed an issue where you can skip holes using brackets, "[" or ']", in Monty's Mini Golf
Fixed an issue where pressing <SPACEBAR> while climbing into Freddy unloaded the level
PS4 Specific Changes
Fixed a crash that could happen when playing Princess Quest 1, 2, and 3
Greatly reduced memory usage to prevent out of memory (OOM) crashes occurring on the PS4
Increased  Freddy's texture and dynamic lighting resolution on the PS4
Increased environment light bake resolution on the PS4
Fixed an issue so that the "Burntrap"  ending and "Gregory in the Alley" ending cinematics plays correctly
Increased texture resolution of sprites animation and character models
Adjusted textures that were not visible in Roxy's Boss Battle
Removed visible cursor found throughout the menus.
Fixed an issue where remapped controls did not apply after relaunching the application on console
PS5 Specific Changes
Fixed an issue where returning to complete the Prize Counter at 4 AM resulted in disabling player interaction with Freddy
Fixed an issue where spamming <TRIANGLE> button will cause the screen to go black while playing Monty's Mini Golf
Removed 'Force Restart' UI when restoring default video settings
Fixed the conveyor belt speed in Princess Quest 3
Fixed Balloon World's tiling issue disappearance
Removed the Fazwatch interface while playing Monty's Mini Golf
Fixed gamepad interaction with the Main Menu and Options Menu
Fixed an issue where remapped controls did not apply after relaunching the application on console
Localization Changes
French (FR) text for "Delete File" no longer bleeds off-screen
French (FR) text for "Apply Changes" and "Restore Defaults" no longer overlap each other
Fixed missing Freddy subtitles during Showtime
Unmentioned Changes
The patch included various other changes that weren't mentioned by Steel Wool, such as:
4K textures for the hourly Glamrock textures, Glamrock Freddy's textures in general, the Shattered Glamrocks, the Endos, Wind-Up Music Man, Vanessa, Vanny and Burntrap.
A new stickynote graphic that appears when collecting messages.
The removal of unused rooms.
The Endoskeletons in front of Pizza Place activating.
A joke data string that references fans constantly datamining Security Breach.